Extreme Performance Tires
Published: December 9, 2017
I came across a review of these tires by Bill Schonman on Facebook. The "Extreme Performance", somewhat confusingly, is a brand, not a reference to common tire classification in the US. The tires can be ordered online or by contacting Kamil Anthony T on Facebook.
Specifications
Extreme Performance tires are available in several compounds and two tread designs. The compounds are:
Super soft
Soft
Medium
Hard
Drift
... and the tread designs are VR1 "wet/gravel" and VR2 "dry tarmac":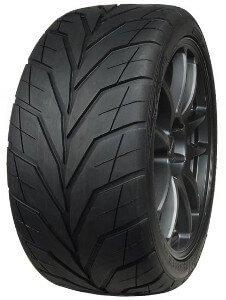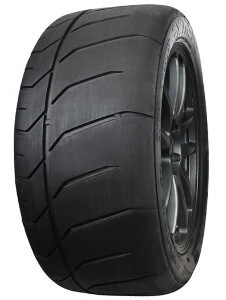 extreme-tyres.com has further details on the compounds as well as an application guide.
For autocross/road course use, the following combinations seem reasonable:
VR1 tread profile, W5 compound ("soft", 36-72°F tread temperature) - steady rain
VR1 tread profile, R compound ("hard", 72-162°F tread temperature) - intermediate wet
VR2 tread profile, R5 compound ("soft", 36-90°F tread temperature, 80 treadwear) - autocross
VR2 tread profile, R7 compound ("medium", 54-144°F tread temperature, 140 treadwear) - time trial
VR2 tread profile, R9 compound ("hard", 72-180°F tread temperature, 200 treadwear) - HPDE/race
For reference, the optimal temperature range for Toyo RA-1 and Toyo RR is 160-220°F, which is higher than any of the Extreme Performance compounds. I wonder if the medium Extreme Performance compound is similar to Bridgestone RE-71r, in that it is a street tire with an extremely rapid wear rate.
Performance
Bill Schonman tested 195/50-15 VR2 with R9 compound against 225/45-15 Hankook RS4 in a Chumpcar race at VIR North. Both tires were mounted on 15x7 wheels and ran on a BMW E30.
The car was driven by three drivers, with RS4 on Saturday for 8 hours and VR2 on Sunday for 8 hours, with the following best lap times:
| Driver | RS4 | VR2 |
| --- | --- | --- |
| Driver 1 | 1:48.3 | 1:48.7 |
| Driver 2 | 1:54.8 | 1:53.5 |
| Driver 3 | 1:55.2 | 1:53.8 |
Going by this data, 195 width VR2 was capable of similar performance to 225 width RS4. This is impressive given the 30 mm tread width deficit on the VR2.
It also appears that VR2 could have easier to drive fast, as the slower drivers' lap times improved on VR2 tires. However it is also possible that the slower drivers were unfamiliar with VIR and the improvement in lap time is a function of seat time rather than the tire change.
Subjectively, Bill said:
Between the two tires, the VR2 was better under braking, we could brake a noticable amount later. The RS4 definitely was more composed at the limit of grip. You could keep the RS4 on the limit without drama or slides. The same could not be said for the VR2. The VR2 was more eager to slide. Brake a little too late and you deal with inevitable understeer, get too agressive on throttle? You deal with a lot of slip angle. It definitely was more fun, but noticably took a toll on lap times. It took more effort to keep the car from moving around at 10/10 driving.
A tire that is more prone to sliding and more difficult to drive is generally slower, hence the lower lap time obtained on VR2 is surprising given this subjective feedback. Perhaps VR2 have less rolling resistance and make up the lower corner exit speeds on the straights, and perhaps VR2 beat RS4 in the braking zones as Bill alluded to. My own experiences with various Hankook tires, RS4 included, is that the tires are prone to lockup under braking and do not decelerate hard early in braking zones.
Conclusions
An interesting entrant into the street tire space, Extreme Performance tires are worth further investigation. If they do indeed perform better under braking than Hankook RS3/RS4 they could be a viable alternative for non-ABS cars especially given that Dunlop Star Specs ZII have been discontinued and their replacementt, ZIII, have not made it into the US yet.