Hankook Optimo H724 On A Trailer
Published: January 22, 2017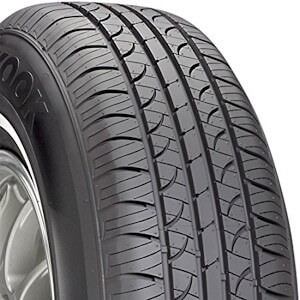 I bought a set of Optimo H724 tires for use on my trailer.
I noticed that I change trailer tires much more frequently than the tow vehicle tires, and wanted to see how a passenger tire with a higher treadwear rating would do in a trailer application. To this end I purchased a set of 4 Hankook Optimo H724 tires in 215/75R14 size.
When substituting tires like this it is important to check the load carryping capacity of the new tires. The rated load for an ST205/75R14 load range C trailer tire is 1860 lbs. The rated load for a P215/75R14 H724 is 1664 lbs. When loaded, my trailer's gross weight is under 4000 lbs, averaging to less than 1000 lbs per tire - well within the capacity of Hankooks.
Soft Sidewall
My first impression of H724s, looking at a bare tire, was how soft their sidewall was. Unlike trailer service tires which have two sidewall plies, H724 has a single sidewall ply. Softer sidewalls contribute to trailer sway and have less puncture resistance.
On Road - Trailer Sway
With the trailer outfitted with 4 H724s, I took the tires on their first voyage. Immediately the trailer started "walking" side to side much more than it normally does. Active driver effort was needed to keep the trailer sway under control. The situation was not pleasant at all.
As luck would have it I soon lost two of the Optimos due to punctures. With two trailer service tires and two Optimos trailer sway was reduced from aggravating to merely annoying.
The ride with H724s seems to be softer than with trailer service tires, probably owing to H724's softer sidewalls again.
Traction
Traction in a trailer tire is hard to judge. I usually tow on straight roads and well within the lateral grip capabilities of tires. Even in winter towing I have not had the trailer try to overtake the tow vehicle.
If lack of excitement is anything to go by, H724s have sufficient grip for trailer use.
Longevity
As I mentioned I lost two of the four H724s to punctures not long after I installed them. As I resolved to return to trailer service tires I did not keep good records of how long the remaining two H724s lasted. They seem to be wearing as evenly as trailer service radials are wearing - not better and not worse.
I think the remaining tires lasted me between 1 and 1.5 years, which is about 20,000-30,000 miles. This seems not too different from trailer service tire life.
Conclusion
I will go back to running ST205/75R14 trailer service tires to keep trailer sway in check.
Trailer tires have been steadily going down in price in recent years, and now Discount Tire Direct has them at under $40/tire last time I checked. Combined with July 4th/Black Friday sales the trailer tires should be obtainable for very low prices indeed. Given this it does not make sense to run passenger tires on the trailer.